*As an Amazon Associate I earn from qualifying purchases.
Singers who incorporate planning and journaling into their daily routine achieve their goals and advance their skills in voice lessons and voice study.

The Singer's Practice Plan, Log, and Journal is a user friendly, intuitive resource that's proven to help singers and their teachers keep track of goals and provide structure for practice sessions. With its clear layout and helpful calendars and lists, this planner is a hit in successful voice studios around the world.
Contents include:
Monthly and weekly calendars

Singer's repertoire list

Weekly practice logs

Weekly journal

Blank staff paper

Singer's Practice Plan, Log and Journal is a unique tool designed exclusively for singers by a voice teacher and students.

Read what this Amazon reviewer wrote about Singer's Practice Plan, Log, and Journal:
"This practice log is about to make life easier for singers and voice teachers everywhere! Well-organized, easy to navigate, and useful for singers at any level to structure their goals and practice time!" – CCR
Your passion for music and singing is undeniable, but you don't know what direction to go for furthering your singing path. The Teen Girl's Singing Guide can help bring you clarity!

This illustrated book, written in a straightforward, friendly, nurturing style, offers useful information about career options, along with links to helpful videos and input from guest voice instructors. It will help you assess your goals and determine how to move forward with your studies, while outlining clear, practical steps you can take to make singing the focus of your life.

This book is a must-have for any teen or tween girl considering singing as a career or hobby. In The Teen Girl's Singing Guide, girls who are passionate about singing finally get answers to big questions, such as "How can I be less nervous?" and "Should I study music in college?" These and many more topics are covered by Nancy Bos and her guest authors as they discuss topics such as TV singing competitions, online lessons, and performance anxiety. Nancy helps girls follow their hearts and also their heads as they make decisions about their futures.

Performer, voice teacher, and author Cynthia Vaughn writes this about The Teen Girl's Singing Guide:
"It all looks so easy. You just make viral YouTube videos or get on a reality talent show. Right? Wrong! Nancy Bos speaks real to teen girls about how to BE a singer. This illustrated book and journal let's teens explore all of the options including (and way beyond) being a pop star or professional singer. This is also a book for parents who want to understand the complex and vital relationship of music and singing and how it empowers our daughters. The Teen Girl's Singing Guide is personal, profound, and surprisingly practical!"
Read what Amazon reviewers are saying about The Teen Girl's Singing Guide:
"Very readable, and I love how Nancy's writing style is engaging, personal, and utilizes lots of nice analogies. I don't think there's anything like this out there." – Julie, professional singer, pianist & teacher
"This is a quick read, but chock full of really useful information – applicable to boys, too. Bos helps the singer assess her level of seriousness in developing her voice, offers many possible career and/or avocational goals, and lays out clear pathways to achieve them. This is a great resource for parents of singers, guidance counselors, and choral and vocal instructors to share with their students." - Leora
Singing 101 is the single best tool every singer needs to build, improve, and grow their voice! This 'how to' guide empowers aspiring singers with knowledge, deep understanding, and practical application through exercises and techniques that grow the skills of the modern singer.

In Singing 101, master teacher Nancy Bos combines her decades of experience with the vocal wisdom and proven strategies of generations of voice teachers, as well as contributions from modern voice science. The result is an essential collection of practical tips and advice, easy-to-understand explanations of technical concepts, and effective exercises that provide modern singers with a fast way of reaching their goals.
You'll gain insight into what makes the voice such a special instrument and how to avoid damaging its fragile tissue.
Learn about:
Breath

Body alignment

Eliminating unwanted tensions

Vocal resonance

How to build vocal strength and agility

Style

How to balance technique with stage presence

Strategic thinking about planning and executing a song

Voice classification
Voice teachers and singers are loving Singing 101! Read these Amazon reviews:
"This is a great introduction to the fundamentals of singing. Nancy has created a resource that will help students decipher some of the steps needed to become a better singer and gain confidence in their ability to use their voice." – Erin Guinup, voice teacher
"This book was exactly what I needed. I understand my challenges now, and I'm definitely on my way. Thanks, Nancy!" – Mike, aspiring singer

The SINGING 101 AUDIOBOOK version contains over 30 minutes of BONUS vocal workout music and instruction, as well as extensive examples for the listener to sing along with. Get in on the wisdom of centuries of teachers with tried and true exercises set to music that will appeal to today's singer.
Singing 101 is also available in Spanish translation, Cantar 101!
Cantar 101 es la herramienta optima que cada cantante necesita para construir, mejorar y totalmente desarrollar su voz! Esta guía practica empodera a los aspirantes y aficionados de canto con conocimiento especializado, comprensión profunda y aplicación práctica a través de ejercicios y técnicas que enriquecen el aptitud de la cantante.

En Cantar 101, maestra experta Nancy Bos combina sus décadas de experiencia con la sabiduría vocal utilizando estrategias probadas de generaciones de profesores reputados, metodos prestigiosos, juntos con conocimientos cientificos. El resultado es una colección esencial de consejos prácticos, explicaciones fáciles de entender, de conceptos técnicos y ejercicios efectivos proporcionando a los cantantes modernos una forma rápida para lograr sus metas.
Obtendrás una idea de que le hace particular su voz autentica y cómo evitar dañar los tejidos blandos de sus cuerdas vocales.
Aprenda sobre:
Respiración

Alineación corporal

Eliminación de las tensiones

los resonadores

Cómo desarrollar la fuerza y la agilidad vocal

Estilo

Cómo equilibrar la técnica con la presencia escénica

Pensamiento estratégico sobre la planificación y ejecución de una canción

Clasificación de voz
Los profesores de voz y los cantantes estantan claramente ecantados! Lea estas reseñas de Amazon:
"Esta es una gran introducción a los fundamentos del canto. Nancy ha creado un recurso que ayudará a los estudiantes a descifrar algunos de los pasos necesarios para convertirse en una mejor cantante y ganar confianza en su capacidad para usar su voz ". - Erin Guinup, profesora de voz
"Este libro era justamenta lo que necesitaba. Ahora entiendo mis desafíos, y definitivamente estoy en camino. ¡Gracias, Nancy!" - Mike, aspirante a cantante

Si estás buscando una herramienta única para ayudarte a lograr el canto del siguiente nivel, ¡recoge tu copia de CANTAR 101 ahora!

¡La versión del AUDIOBOOK CANTAR 101 contiene más de 30 minutos de musica para ejercicios vocales BONUS! e instruccion, tambien ejemplos extensos que usted puede cantar. Sumérgete en la sabiduría de siglos de maestros con ejercicios probados con música que atraerá al cantante de hoy.

Cantar 101 también está disponible en inglés, Singing 101.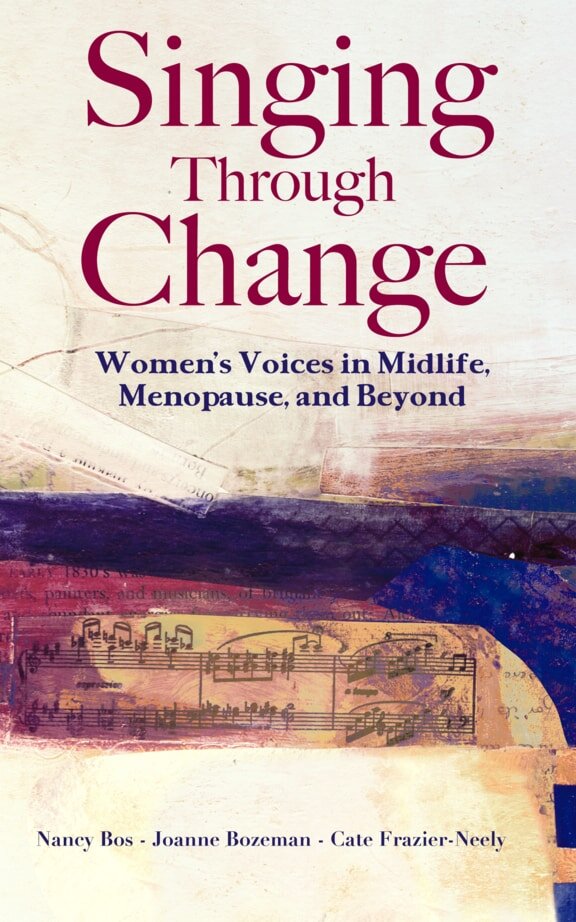 Singing Through Change: Women's Voices in Midlife, Menopause, & Beyond
Singing Through Change is a groundbreaking book due to arrive in online bookstores in Winter 2019!
Nancy Bos and her co-authors, Cate Frazier-Neely and Joanne Hayes Bozeman, will share stories from nearly 60 interviewed women who are singing through all stages of mid-life and menopause, along with research gathered from specialists who have studied perimenopause and menopause and their effects on the singing voice.
In reading this book, women will feel less alone and more empowered to cherish themselves and their voices as they move along this life-altering – and sometimes courageous – journey. Those who have been taught to fear this time in their lives will find hope. Those who know little about the subject matter will find enlightening information and effective strategies for navigating it.
Purchase all of Nancy Bos's books through Amazon and enhance your singing today!